Luxury Living Chicago Realty's CEO Aaron Galvin delivered a presentation at Bisnow's The City of Fulton Market event on July 13. During the presentation, Galvin outlined the company's growth over the past 15 years while also forecasting what's to come for multifamily in Chicago's West Loop/Fulton Market.
The Growth of LLCR
Galvin began his presentation by recognizing his team of 70, which has leased more than 20,000 apartments over 15 years — comprising a staggering 35% of all new unit leasing in downtown Chicago. With a focus on Class A leasing and luxury condominium sales, the LLCR team has expertly leased or sold $5 billion+ in capitalized value.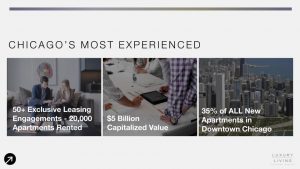 By collaborating with numerous developers, capital partners, and multifamily partners, advising across all areas of the development, marketing, and leasing process, Galvin said that LLCR is ensuring "success with these multi-million-dollar investments that make up the fabric of our city."
TruRent – Real Time Class A Apartment Data
 To best understand what makes Chicago multifamily successful, Galvin said it is first necessary to delve into the mind of the Chicago luxury tenant. "Renting an apartment is one of the most financially and emotionally significant decisions in someone's life" noted Galvin.  LLCR recognizes this and provides both qualitative and quantitative data for renters and developer clients. 
Over the last two years, LLCR has developed TruRent, a proprietary technology platform that captures real-time data on Chicago's Class A luxury apartments. LLCR is now tracking nearly every unit that comes on the market in Chicago and every unit that gets leased at the actual unit level.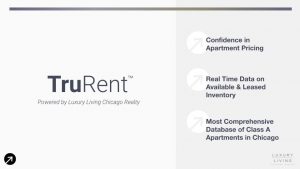 This allows the company to create the most accurate market studies which help inform pricing for our current clients and future developers and capital partners.
Historical Delivery Data
Touching on the historical data of the area since 2016, Galvin said the area has had approximately 4,000 units deliver — mostly from 2019-2021. For the properties delivered to date, the average size of the building is right around 300 units with an average unit size of about 750 SF.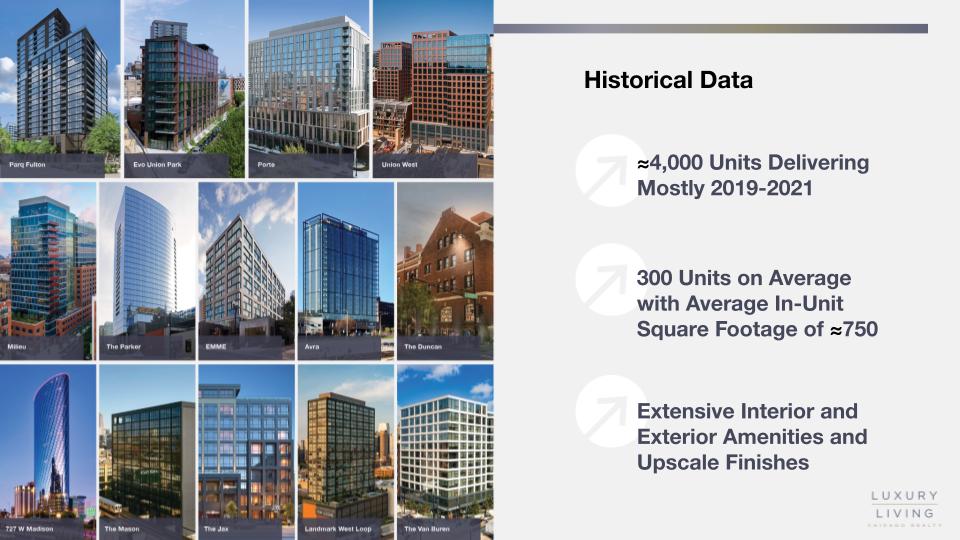 All of these properties have extensive interior and exterior amenities and upscale finishes including stainless steel appliances, quartz countertops, luxury plank flooring, an in-unit washer-dryer, and custom closets. These are some of the nicest buildings in the city.
Current Market Data
In total, there have been about 25,000 new luxury apartments delivered to these neighborhoods since 2016 across 60 properties. 
Based on data from Q2 2022, Galvin said Chicago's multifamily market is robust, with Class A luxury apartments 94%+ occupied and average rents at an all-time high of nearly $4.00 per square foot. The average gross rent exceeded $3,000 in Q2 2022.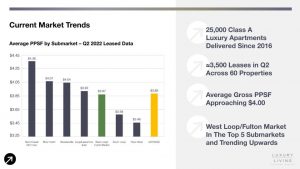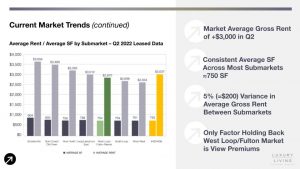 On both a PSF basis and Gross Rent basis, Old Town/Gold Coast leads the way with River North and Streeterville slightly behind. All of these submarkets have had significant new deliveries in the past 2-3 years at the very top of the market. 
In West Loop/Fulton Market, the most recent price-per-square-foot is $3.93 and the average rent is $2,903. The only reason West Loop/Fulton Market is not higher is due to the lack of view premiums. For comparison, the average height in West Loop/Fulton Market is 19 stories. Streeterville's average is 47 stories. High-floor units in most neighborhoods feature lake and city views which renters are willing to pay a premium for.  
As larger scale and taller properties deliver in the next few years in Fulton Market, Galvin predicts West Loop/Fulton Market average rents will exceed Loop/Lakeshore East and be on par with River North and Streeterville.
West Loop/Fulton Market YTD
With minimal supply and increasing demand, rents have continued to increase YTD in this submarket.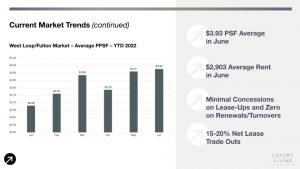 Galvin also noted, there are minimal concessions in the West Loop or really any other submarket. Most Lease-Ups, including two in Fulton Market/West Loop, have been offering 1-month of free rent. There have not been any concessions offered on renewal leases and we are seeing lease trade-out increases of 15-20%, burning off all pandemic concessions.  
Concessions will remain a part of the landscape during the lease-up but data is proving the market can absorb these gross rents.
Future Pipeline
"With current fundamentals stronger than ever, developers and capital partners are ready to invest in the city of Fulton Market," Galvin said. "We're entering a period of significant growth."
In total, there have been roughly 4,000 Class A units delivered to this submarket since 2016.
In total, LLCR projects ≈10,000 new units added to this submarket in the next 3-5 years. This would be 28 new multifamily properties added to West Loop/Fulton Market.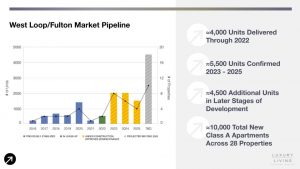 Galvin concluded with the following: 
"No one year is going to overwhelm this market. A popular Chicago neighborhood like Fulton Market can absorb 2000, even 2500 units in one year. Everyone can be successful here"
Real-Time Pipeline
If you are interested in access to the only real-time Class A pipeline in the market, please click here and provide your contact information.