The Illinois Real Estate Journal recently announced the finalists for its 2021 awards program, and Luxury Living Chicago Realty and its clients are finalists in multiple categories. LLCR's CEO Aaron Galvin is a Finalist in Executive of the Year, and the team's COVID response is a Finalist in the category of Best COVID Plan. Exclusive marketing and leasing assignments Logan Apartments and Wolf Point East are also both finalists in the category of Project of the Year – Multifamily. Learn more about why we made the finals below.
Executive of the Year – Aaron Galvin
Coming off the heels of an impressive year in 2019, Luxury Living Chicago Realty (LLCR) had an extraordinary first quarter in 2020. Then the pandemic hit and forced many businesses and leaders to shift in the way they conduct business. That was no exception for Aaron Galvin, CEO and Co-Founder of Luxury Living Chicago Realty. 
In early March, and prior to the city mandate, Aaron made the call to move the firm's operations, marketing and support teams to a full-remote schedule to ensure the safety of the team. While March – June is the peak leasing season for apartment rentals, the health and well-being of his team came first. Aaron quickly established a cross-department contingency planning committee to pivot the business to the virtual world. In addition, as a thought leader in the Chicago apartment market, Aaron made collaborating and connecting with other industry leaders a priority. Aaron's leadership was essential to the success of the firm during an unprecedented time. It was also important to Aaron to ensure all LLCR employees would remain in their position at the same compensation levels – which was accomplished.  
Aaron has always been a thought leader and innovator in the niche of luxury apartment marketing and leasing. Throughout the year, Aaron generated six bylined articles about how LLCR was continuing to operate safely during the pandemic as well as sharing best practices and key learnings with the real estate industry.
With 2020 now behind us, Aaron has remained committed to fine-tuning a self-guided leasing tour experience that will remain available for those interested. Aaron continues to push himself and his team to think about how they can use this inflection point to redefine their potential and continue to achieve outstanding results in the year ahead. 
Aaron's continued leadership, transparency, and innovation in such a tumultuous time has proven successful. Frequently named on the Inc. 5000 list of fastest-growing companies, LLCR's revenue exceeded $8 million in 2020 – a company record.
Best COVID Plan – Property Services
While the pandemic negatively impacted the world, Luxury Living Chicago Realty (LLCR), remained committed to navigating new waters and serving clients. Chicago's stay-at-home order went into effect on March 20, 2020, simultaneously with LLCR's peak leasing period, the firm knew they had to pivot its business model to one that not only provided a safe leasing experience for their clients and employees, but that also helped their clients better understand how the changes affected them.
LLCR planned, executed, marketed – and on March 18 – launched a virtual sales experience across our portfolio of properties. This happened in less than 10 days, was ahead of competitors, and before the official stay-at-home order. The process is still used today but now adapted for flexible showings. In tandem, LLCR developed training programs for all sales agents that included required mock tours with LLCR's Leadership Team to practice before touring with clients for a best-in-class experience.
As the pandemic continued and additional guidance was provided, LLCR launched yet another new process to allow renters to customize their showing experience with three different options.
Remote tour:

  Clients are virtually guided to view high-quality photos, videos, and 3D tours of amenities and units.

Self-guided tour:

Clients can tour apartments in-person at their own pace with contact-free guidance from the leasing team.

In-person tour with updated safety precautions:

Traditional in-person showing following updated safety protocols. This includes signing a covid waiver, sanitizing hands upon entering a home, cleaning between showings, wearing a face mask at all times, and maintaining a 6-feet distance.
These options then needed to be communicated to clients and the industry. The marketing team developed new content, like how to Find An Apartment Remotely, and Video Campaigns, with SEO in mind to help clients find more information about leasing and moving during the pandemic. The blog Can I Still Move During the Chicago Stay at Home Order became the company's second most popular post and 7th most visited page in 2020 with 4,000 unique views. The post climbed to rank in the top three results for online searches such as "Can I move in Chicago" and "Moving during Covid in Chicago". Marketing also targeted communications to the luxury apartment and real estate industry. This was done through six bylined articles and 20 press placements sharing best practices and key learnings with the industry to operate safely during the pandemic. Additionally, LLCR started a monthly Instagram Live series that featured selected experts to provide relevant information for renters, homeowners, and industry professionals. 
By the end of 2020, LLCR completed 5,935 virtual tours and recorded over 300 videos to support virtual leasing. By pivoting to virtual leasing and effectively communicating Covid-19 concerns, LLCR not only was able to find success through the pandemic, but it allowed them to have their greatest revenue year in the company's 13-year history. 
Project of the Year – Multifamily
Wolf Point East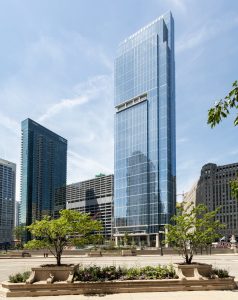 Wolf Point East is a 698-unit luxury multifamily tower located on the premier riverfront site that activates both the riverfront and the streetscape north of the Franklin/Orleans bridge. The tower features architectural excellence from renowned firm of Pelli Clarke Pelli, including a series of offset planes landing lightly within the park. Wolf Point East is one of three total buildings that are part of the Wolf Point master plan. The tower has thoughtful placement to maximize views for residents. Wolf Point East offers unique resident amenities including modern gathering spaces, business & study lounge, full-floor fitness club, indoor/outdoor pool & sun balcony, and pet lounge with spa & outdoor patio. 
Logan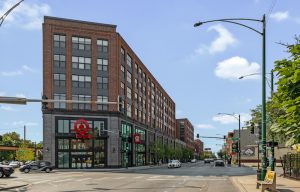 Located along the Milwaukee Avenue Corridor, Logan Apartments has easy access to transit like the Blue Line, bike routes, and highway to downtown or O'Hare airport. A block to our North is Logan Square Park, a public green space designed by Jens Jensen as part of the Chicago Boulevard System, and the perfect spot to enjoy summer art festivals, read a book, walk your pup, or visit the farmer's market. Along every avenue, boulevard, street, and corridor, there is something to discover in this vibrant neighborhood, steeped with history.
Luxury Living Chicago Realty looks forward to celebrating at the live event on July 22. See all of the finalists on the event website.