Luxury Living consistently tracks leasing data on larger assets in Downtown Chicago's Class A Market built after 2016. This dataset currently includes ≈70 properties and just over 22,000 total units. These properties set the tone for the entire market. 
Tracking leased rentals as opposed to available units (asking rents) shows what is actually happening in Chicago multifamily. Furthermore, showing how the average gross rents compare to the average SF is equally important, as PPSF has a major impact on how a property is perceived in the market.
Q1 2023: The March Leap
January, February, and March include two of the slowest months of the year (January and February), along with one of the busiest (March), which makes Q1 appear to be stronger than it is. The key is to break down the data by month to understand the trajectory.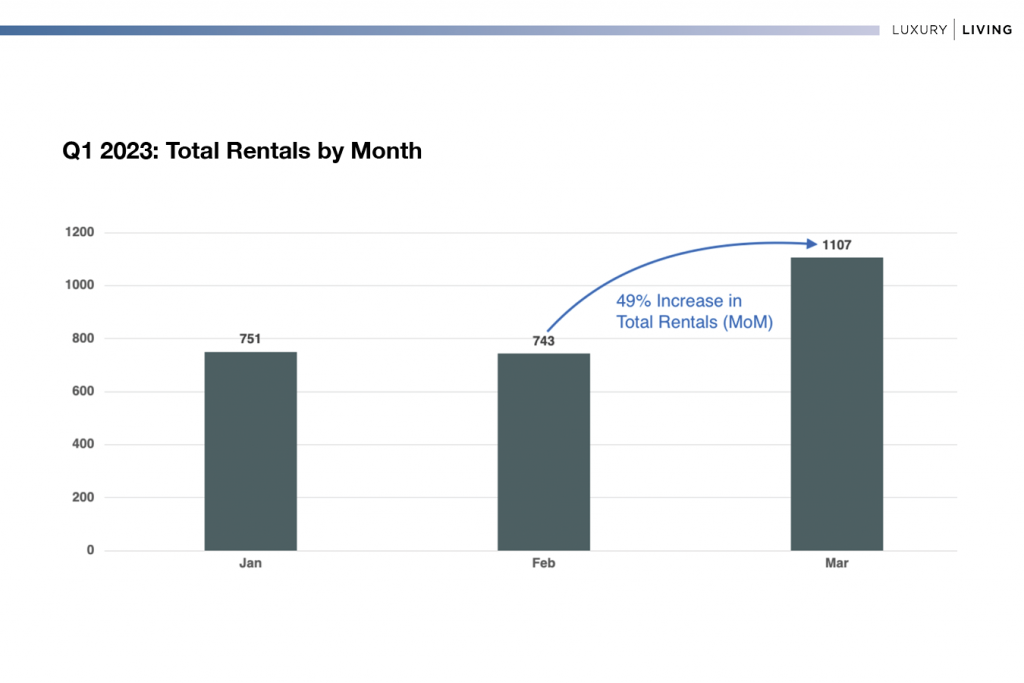 There is a 49% increase in total rentals from February to March which signals the kick-off to Chicago's busy season. And also why comparing Q4 2022 to Q1 2023 doesn't really tell much of a story. January and February are similar to Q4 while March is much closer to Q2 in velocity.
Volume Control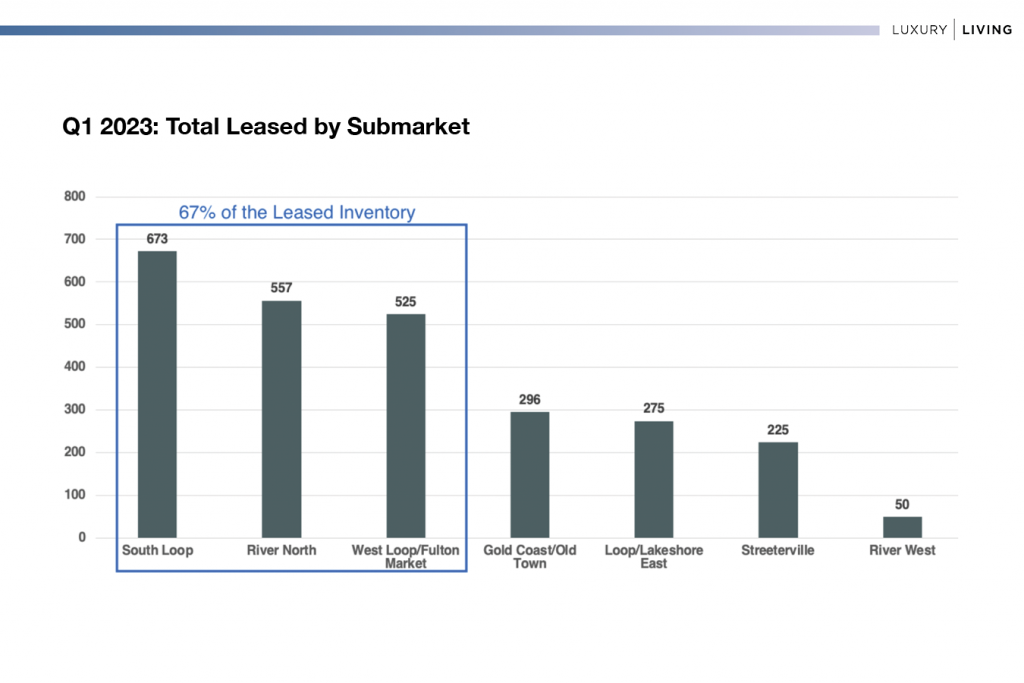 Of the seven prime downtown submarkets, two-thirds of the volume occurs in three of them: South Loop, River North, and West Loop/Fulton Market. West Loop/Fulton Market has three lease-ups that contributed 176 rentals to the total in Q1, which is 33% of these three neighborhoods' total absorption. 
Look for West Loop/Fulton Market to take the second spot on this list for Q2 now that all three properties are no longer in pre-leasing environments.
Digging Deeper
 Average Square Footage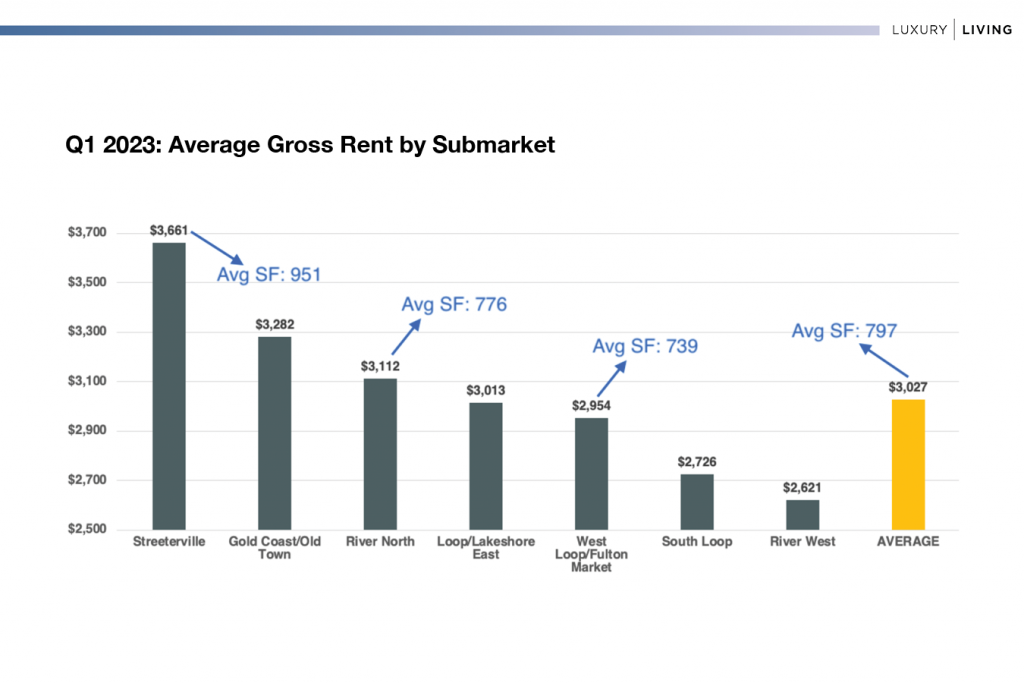 Reporting average gross rent without context can be misleading. One would think that Streeterville had a substantially better Q1 than River North, but when the average SF is 175 lower (-23%), it shows the smaller unit types dominated River North vs. larger unit types in Streeterville. 
Percentage of Studio – 1 Bedroom Rentals:
River North: 80%

Streeterville: 63%
The 175 SF difference between River North and Streeterville equates to $549 per month. Without the context of average SF, this data could be quite misunderstood.
South Loop: Ceiling or Floor?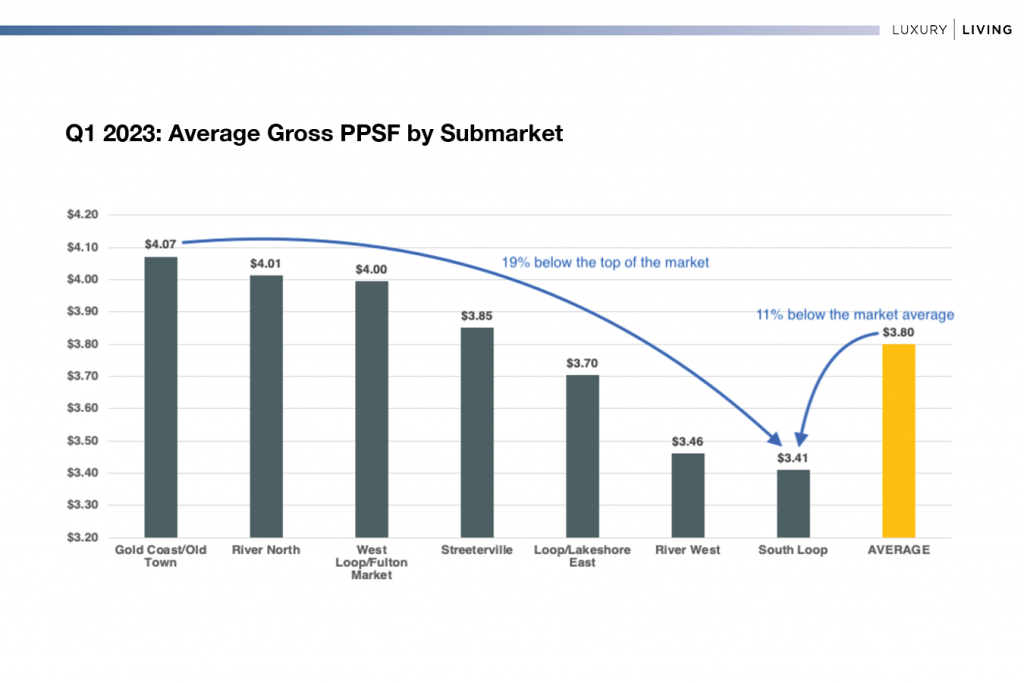 Despite the high-end, amenity-driven properties built in the South Loop since 2016, this submarket continues to remain flat.
In Q1 2022, the South Loop was at $3.36 PSF. A full year later, this submarket has only increased $0.05 PSF (+1.5%). By contrast, West Loop/Fulton Market rose from $3.77 to $4.00 PSF (+6.1%) over the same period of time. 
South Loop had the highest volume of rentals in the market (26%), but the lowest PPSF. 
On a gross rent basis, South Loop is more in line with River West than West Loop/Fulton Market, despite significantly taller buildings with more view premiums. 
How much is this impacting the market? 
When South Loop is removed from the data set, the average PPSF for the market jumps from $3.80 to $3.94 (+3.7%). 
This is significant information as investors look at Chicago as a whole. 
Loop/Lakeshore East: Missing the Middle?
Loop/Lakeshore East has four properties performing extremely well, averaging $4.05 PSF. The remaining properties, however, average $3.08 PSF—a difference of 31.2%. 
This isn't being skewed by Average SF either. The bottom 3 properties average 791 SF while the top 4 average 846 SF (+55 SF).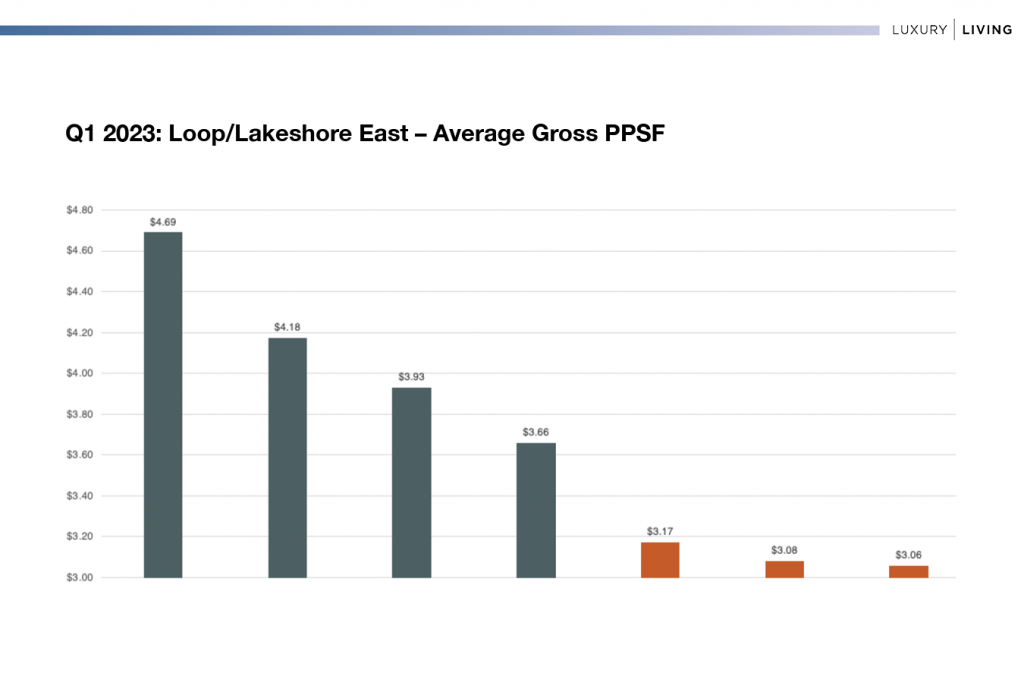 This submarket shows the high-end can perform, especially properties closer to the lake and Michigan Avenue. Proving the point, it's all about where you build, not what you build. 
This gap also opens the opportunity for the $3.50 PSF option which leads to more momentum for office-to-residential conversion. 
At Luxury Living, we not only provide data, but analyze the data to help inform developers and capital partners to make the best decisions on pricing strategy, unit mix, and amenity programming.
Click Here to Download our Q1 Chicago Class A Multifamily Market Update